Welcome Aboard!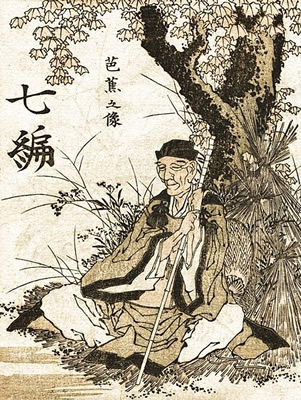 Matsuo Basho, the 17th Century Japanese poet, haiku bar-setter to this very day, is a major inspiration for my fifth book of poetry (and prose) themed around the spirit of place.
The acknowledgement is long overdue. He, together with African American beat poet Ted Joans, was among those who excited me into writing my own versions of verse in mid-70's Fremantle WA.
Basho first grabbed me in a two-part paperback collection: The Narrow Road to the Deep North and Records of a Travel-Worn Satchel.
His writing was a revelation. Intensified meaning burst forth like brilliant leaves on a Japanese gingko tree as Basho wove haiku highlights through bare-boned prose in the poetry form now known as haibun.
Saying this, I recall another great Japanese influence – the novelist Yukio Mishima.
Fremantle's then Perth Institute of Film and Television (PIFT) screened a documentary on this great if tormented writer somewhere in the 70s.
The cinematic technique was fascinating and highly effective – it was filmed mainly in black and white but occasional flashes of colour highlighted key points.
At any rate, Basho's haibun style has definitely influenced the structure of part of my latest book under construction – The Go Between and Other Poems You Can Place.
Siftings From a Shovel-Nosed Corona, one section, tracks a journey I took alone across Australia from the Northern Rivers after the disintegration of my first marriage and subsequent separation from my children.
It was definitely a worthy subject for the blues as in an ancient red Corona I hit the road with a tent, a suitcase and about $160 in the bank, sum total of my worldly possessions.
And how could I not be inspired during this crisis by a man who wrote: "the thought of three thousand miles before me suddenly filled my heart, and neither the houses of the town nor the faces of my friends could be seen by my tearful eyes except as a vision."
He follows this with a haiku which translates as:
The passing spring
Birds mourn,
Fishes weep
With tearful eyes.
Inspired by Basho's haibun style, in this section of the book I plan to intersperse the predominant prose narration with flashes of verse, though probably not haiku and certainly not in the intense discipline the form demands.
Thus, winding westwards in 1994 in my 1967 Corona 2-speed automatic I've been narrating my journey from Gilgandra to Wilcannia.
Then I encounter this scene on the banks of what's left of the drought-struck Darling River:
Bale-loading gear
jams rusted
on Wilcannia's
old wool wharf...
Below...
an aimless chain
bites deep the bones
of ghost gum limb:
Broken and long dead –
restrained from
rest above the
mud-bound river bed.
Elsewhere in The Go Between book, verse alone is used. Here, other muses emerge including the engineers and construction workers on the bridge from which the book draws its name.
Always the intent is to capture the spirit of place, as it entranced me in journeys to the likes of Melbourne, Mount Isa and of course WA.
In West Australia in the 70s, I'm found wandering a wildflower-bright bush track with a couple of mates and their Doberman…or musing above sea-smashing rocks at the end of Fremantle's North Mole.
Then there's my first encounter with the graffiti-obliterated railway stations and ware house walls of early 90s Melbourne… elsewhere a conducted tour of Brisbane's infamous Bogga Road Jail.
And most recently a journey with youthful pilgrims to Spain, treading the paths of El Greco in ancient Toledo and climbing heaven's heights with extraordinary saints such as the ecstatic Teresa of Avila.
So, that's some idea of some of the tracks this new book wanders. We'd love to welcome you aboard as the journey takes shape.
Constructing a Poem on a Bridge Under Construction
To link a poem on the construction of Brisbane's Go Between Bridge with Paleolithic cave paintings may seem fanciful in the extreme.
Yet maybe there are links.
We hear theories about why our ancestors spent such time and effort depicting animals such as bison, bulls and horses on their dwelling walls. Most common is that for these hunter-gatherers it was a way to gain control over this vital part of their environment.
Could it be though the cluttered modern mind has over-complicated matters once again? Might not these artists have been merely celebrating another entity happening to share life on earth with them at that moment in time?
Writing the Go Between poem took many months – more or less as long as it took to build it.
On my daily rail commute I was immediately grabbed by the spectacle of the bridgeworks, first sighted as "islands erupting from the river bed/vegetationed with brightly coloured sticks and blocks".
Pen scribbling, camera snapping, from my train carriage perch high above the action, I sought to connect with what was unfolding. Daily I wrestled with images which might capture this wonder in layperson's terms.
Scanning both river banks – seeing to the east the Performing Arts Centre, the Art Gallery and, to the west, head offices of companies such as Unisys and Dimension Data – it was quickly apparent the Bridge could be seen as a link between Art and Science.
In a sense, art and science came together for me as well as I strove to celebrate the construction of this new bridge.
As communications officer with Gateway Bridge #2 several years earlier, I'd worked with engineers to relay to Brisbane and beyond the project's stages. So I'd gained some insight - and enthusiasm - for the engineering aspects of the "Hale Street Link" as it was first known.
Then there was Brisbane City Council's inspired notion to let the people vote on a name for the bridge. And what a name someone came up with, one which worked on several levels.
In one sweep, "Go Between" captured the bridge's function as well as celebrating one of Brisbane's finest bands.
And it was truly delightful to see the images of the great opening party - complete with live music, performers including one of the Go- Betweens' original members - held on the new bridge.
("The fledgling bridge takes flight on songful wings/as citizens proclaim, and claim, their "go-between".)
Some days as my work-bound train runs parallel with the Go Between, a passing thought of the project – both the writing of the poem and the construction of the bridge – springs to mind. And, no doubt as the Paleoliths and their cave paintings, my life and hopefully many others, will be so much richer for the connection.