About the author
The Queensland-born poet's dreams were kindled by a two- year run of recognition in the Fellowship of Australian Writers (WA) Tom Collins Poetry Prize. He was twice highly commended, and saw his work in the Fremantle Arts Centre poetry book Patterns. That was in the dim dim distant past in that other country - the seventies.
"Reality" cut in and reluctantly he wandered away from his great love. Could it have been the editor of the newspaper who, when he saw his newly appointed journalist fresh out of university sparkling with a poet's idealism word-wrestling mere newspaper articles, tersely advised him to get on with it and keep churning out stories "like sausages out of a sausage machine"?
Maybe it was the five children who would eventually arrive in his first marriage – whom he loved and laboured for on the less-than-labourers' wage that was the lot of the country journalist?
Eventually as a more or less free man, a door-to-door vacuum cleaner salesman, having escaped two careers – journalism and high school teaching – he would return to his great love. Now inspired by the emerald and azure of the Northern Rivers – and by the Coles New World shopping center in Murwillumbah, where he would make sales appointments with shoppers while writing poetry.
Soon he joined an Armidale-based poets' cooperative and set up a Murwillumbah group. Started writing and reciting with increasing fervour. Saw his work in obscure publications like The New England Review; an anthology of Byron Bay poets Read My Lips; and in a collection of poetry published by Griffith University around 1995.
Along the way he had also published three books of poetry – Storm Window (1979); The Siren of Shop 19 and Other Versions of Modern Verse (1991) and War Spoils (1994).
In a dark time about half way through the nineties, he found salvation in his two great loves: crossed perilous rapids in a raft, roughly trussed, of sales and poetry. Within are some remnants from that raft.
Preface
At the heart of "Dead Dad Bye" is a common enough human event – the death of a parent.
Around this time I recall being fascinated by C. S. Lewis' intense inner journey as he strove to come to terms with his wife's death, charted in "A Grief Observed".
After all, these are the profound life experiences that shape strongly, that etch deeply, the character.
Who knows why some people snap like trees in a strong wind at such times, while others unfold and bloom with a new sense of grace?
Why some crumble like decayed granite, while others expose the most intriguing shapes – weather- beaten, yet delightful to the eye? Like the amazing Virgin Rock formation at my birthplace, Springsure.
Ironically, I came to understand the experience of dad's death had brought me much closer to him. At times I mused ruefully on how, now he was dead, I spoke to him much more.
Later, it seemed a worthwhile and instructive, if painful but ultimately cathartic exercise to collect a series of poems written in the 90s post-dad landscape as I wandered around trying to make sense of who I now was and what all this had done to me.
This sense of journey, of self-reconstruction, flipside of the pain of loss, gave an almost optimistic sense that "a soul healing was afoot", hence the title of the partner book. Little did I know I would be plunged into another version of desolation and grief with a loss much closer to home within three years of my father's death.
But back to "Dead Dad Bye".
Its climax is the night of my father's death…finally catching up with him having got an urgent call to come to the Alamanda Private Hospital on the Gold Coast. A truly strange experience occurred that night, but one which many assure me is not uncommon. That is a visitation at the moment of death, in my case one which awoke me in the early hours of the morning.
Too there is a glance at coming to terms with his death, notably a year later in Springsure, the outback Queensland town where I was separated from my parents at age one to spend a year in Brisbane's St Francis Xavier home for orphans and crippled children run by Canossian nuns. Here I remained to undergo a series of operations to a congenitally deformed foot.
"Dead Dad Bye" is dedicated not only to my father but to all the other father/mentor figures in their various guises: from the literary chaps like Swift and Dickens, to those who cared to instruct me, or showed interest in my development like the three men when I was living in West Australia in my early twenties – Archie Crowsfoot and Stanojla Sreckovic (both who showed interest in my academic development) and France Sauvage, who took time to explain some of the mysteries of automobiles, in particular my long-suffering Peugeot 404 wagon.
Later there would be the scruffy, admittedly dubious, grubby of mouth and body, Barry, frequenter of rubbish tips and auctions who, for a period of time around Murwillumbah, helped me to keep vehicles together on my perennially low budget as a father of five – as well as entertaining and instructing me with stories from the edges of the underworld…
Then there's Ashley. The incomparable, unfathomable Ashley. At times my muse, my brother, my cosmic father…my encourager, my antagonist. It was he who smacked his lips, rolled his eyes and uttered "Dead Dad Bye" when I told him of this project all those years ago whilst wandering one of the homelands of my heart, the Northern Rivers.
Finally these books are dedicated to two young women who inspired and assisted me on the home run.
Gemma – a gem who took my ideas and translated them into powerful visual dimensions despite (or perhaps because of) never having met me, then amazed me one day by turning up with her renderings of my work.
Mirusia, my modern muse of the glorious voice who travelled with me by train each week those two years or so, reminding me, challenging me with that inner fire, true inspiration and dedication to artistry bring.
And to all those, close and far, I've stumbled with, on or over on the path to the vision… and that includes you, Jen.
How to buy
Contact paul.jennifer@optusnet.com.au or 0409 872 635

Soul Healing Afoot/Dead Dad Bye, 2009, $20, 86 pages (postage extra)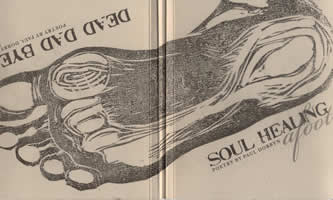 The fourth book of Brisbane poet Paul Dobbyn – actually two books in one – draws from a deep well of life experience and careers ranging from high school teaching to journalism to selling vacuum cleaners door-to-door.
In the words of reviewer Liz Hall-Downs "these are deeply felt, considered, highly-crafted poems about the challenges of middle age, about weathering divorce and rebuilding a life from its ashes, and about facing the death of an elderly parent – but they are not devoid of humour and, often, clever word play".
The often close-to-the-bone poems are complemented by the starkly beautiful linocuts of graphic design artist Gemma O'Brien.
Soul Healing Afoot/Dead Dad Bye is on sale at St Paul's Bookshop at 277 Elizabeth Street, Brisbane city.

War Spoils, 1994, $8.50, 20 pages (postage extra)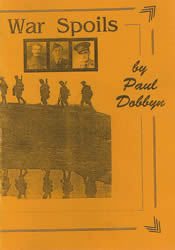 This chapbook, a poem in six parts, recreates the experiences of my grandfather, uncle and father as they fought through battlefields from Europe to Papua New Guinea.
In War Spoils I also address my 'baby boomer' generation "within whose ears boom distant sounds of strife".
Photos of my ancestors in military uniform, and myself (fortunately out of uniform) in our early twenties also help flesh out the saga.
My live performance of War Spoils can be seen on the Writers Tent website at http://apps.attainresponse.com/MediaF5/liveRecording.htm?id=13702






The Siren of Shop 19 & other versions of modern verse, 1991, $12, 84 pages (postage extra)
Ecstacy, delirium, confusion, isolation, survival, compassion, speculation and even the odd erotic twitch are but some of the signs of life the vacuum cleaner salesman/poet gleans on his travels through the Northern Rivers and on the sales trail as far north as Mount Isa.
Poetry falls into illustrated sections: "Siren Calls from the Cool of Coles", "Headless Dummies in the Basement", "Reflections in a Fitting Room Mirror, "Soapbox Shocks in the Checkout Queue" and "Green Leaves (Concrete for Dead)"
And who or what is "the siren of shop 19"? Buy the book and find out!
Not many copies left of this one.
Artwork by Murwillumbah artist Dale Newman (last seen working on a major commission for actor Jack Thompson in 2008).

News, links and reviews
News
Performance Sunday afternoon June 28 Browning Street, West End

Thanks to Kurilpa Poets convener Amanda Maystone-Towel for her organising of the event. (Unfortunately her co-convenor Vij Chandra was unable to come due to being unwell.)

A word of appreciation also goes to Sarah Gall of Browning Street Studios (a music teaching venue) for making the space available. Thanks to other performers such as long time musician/poet Bob Mud and Rev Hellfire for their contributions. And of course the great audience.

Finally a special thanks to Alex Stratton-Funk for filming the reading for a live webcast on his website Writers Tent. Link to broadcast is:
http://apps.attainresponse.com/MediaF5/liveRecording.htm?id=13702


Featured guest poet

I'm featured guest poet for Kurilpa Poets at Browning Street Studios, 11 Browning Street West End on Sunday June 28. I'm performing "War Spoils".

Poetry reading of self and others from Kurilpa Poets will be webcast live by Alexander Stratton-Funk through his website Writers Tent starting around 2pm on Sunday June 28.
Reviews:
Reports:
Catholic Leader
Soul Healing Afoot/Dead Dad Bye articles:
War Spoils article:
Artist website - Gemma O'Brien
Projects
Am currently working on a collection around theme of "poems and prose you can place". Areas placed will include Mount Isa, Wilcannia, Grafton, Bogga Road Jail (not as an inmate but as a visitor to its first ever open day) and, as the extract below indicates - Moree.
Extracts from Moree Sales Drive Snapshots
Welcome to Moree. First night.
Victoria Hotel, Friday;
and I'm feeling like Luke Skywalker
in the Star Wars alien bar scene…
pressing through bodies with
faces that seem stitched together,
muttering in guttural, booze-thickened tones
about cotton, football and godknowswhat.
Meals only $3, but not a scrap
of space to eat them in.
Quickly out to the Max Night Club,
empty, but with a quiet-before-the twister feel
as Schwarznegger types flex restlessly…
somewhere 'Beyond The Thunderdome'

******

Intelligence gathering…
"Whack a skull and crossbones here
and here…"
The ex-Electrolux agent,
now back cotton-chipping, stabs fingers
around the aboriginal missions…
A week later a fatal stabbing
smack bang on the Jones Avenue
no-go zone.
******

Near the week's end…
Out on the Hall Creek Stock Route…
Clean fresh air; track back solid
after recent rain;
catching up to Julie, sales lead met at
monthly Moree markets…
The station "Comelucky" an oasis;
her parents in the caravan, campfire,
rekindling ties not known since she
up and hit the road at 15 years.
Her fellow Dan, son of a drover/stockman –
shearer himself.
"It drove me crazy at first…
the quietness…" she says.
"Now I write songs. Keep an eye out for:
'I walk on water, but I stagger on beer.'"
A sale; country kindness; a round of ox tongue
and salad sandwiches; a couple of Champion Ruby rollies
and the whole damn thing makes sense….
Website Design Brisbane: Afterglow Media